Cage Examination #21: Trapped In Paradise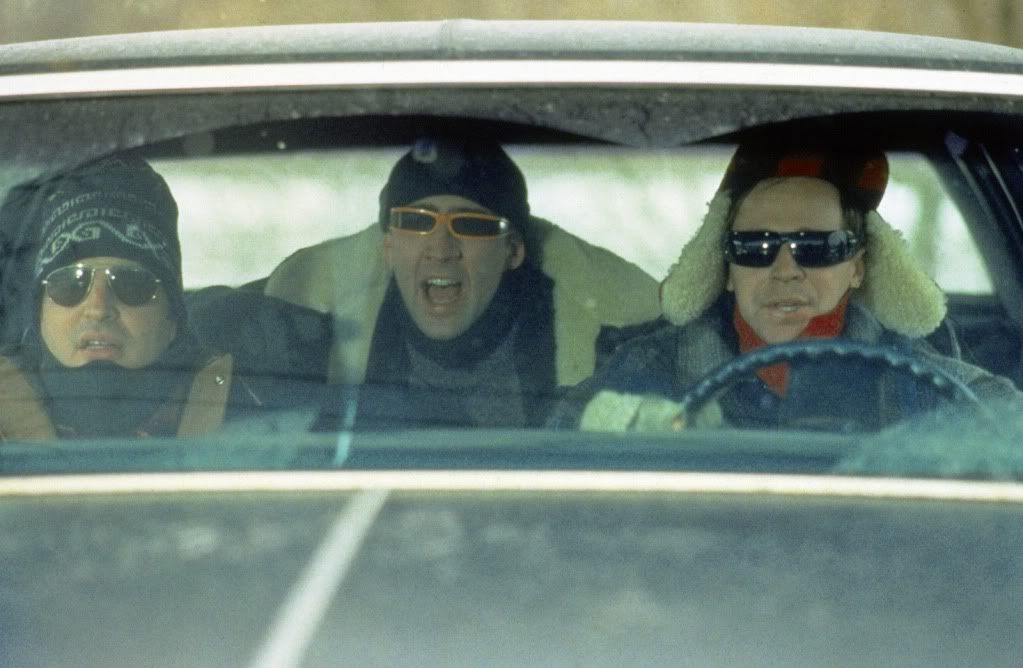 Film: Trapped In Paradise
Demeanor: Perpetually frazzled.
Hair Quality: Often covered by hats.
Performance Quality: Five Cages Out of Ten.
Trapped In Paradise is a horrible movie. Awful. Wretched. Deplorable. Idiotic. Ill-conceived. Functionally retarded. Nothing about it works. It's not especially funny, nor is it especially sweet, or romantic, or thrilling, or any of the other way-too-many things it tries to be. It's a disaster from top to bottom.
And yet, no matter how blisteringly horrendous Trapped In Paradise was during its nearly two-hour runtime (!!!), one thing kept me in the fight. One solitary element of this movie captured my attention and reminded me that there could still be joy to be wrung from even the most atrocious entertainments.
That one thing? A man named Richard Jenkins.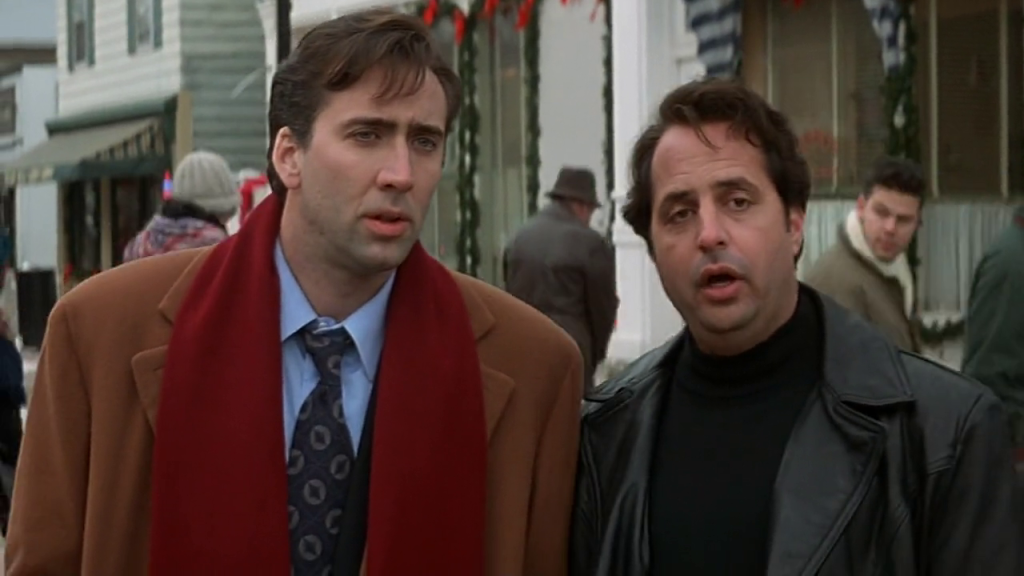 Richard Jenkins is one of the greatest character actors of our time. He plays villains, lovable side characters, and even manages to eek out the occasional starring role, and he's almost never anything but brilliant. If you need proof, go watch his supporting work in movies like Burn After Reading, Let Me In, and most recently, The Cabin In the Woods. Or take in his work on the HBO series Six Feet Under. Or better yet, check out the great starring performance he gives in The Visitor.
Why am I talking so much about Richard Jenkins in a feature called Year of the Cage? Because Richard Jenkins single-handedly saved this movie from becoming the outright worst movie of this series so far. In a largely insincere and laugh-free movie, he somehow injects both of those things into his handful of scenes.
Nicolas Cage is of no help here. Cage is on autopilot mostly, playing the reformed former criminal brother to a couple of nitwit still-criminals. Those nitwit still-criminals are played by Jon Lovitz and Dana Carvey, by the way. Hold up. Let's record scratch this thing to a halt for a moment. Dana Carvey and Jon Lovitz don't especially look like one another. As for Nicolas Cage? You could pick three multiracial people from a random bus stop and probably find closer family resemblance than these three. 
Never mind the automatic indignity of being in a movie with both Jon Lovitz and Dana Carvey. Both are actors I've found funny over the years in scattered projects, but seeing the pair of them trying desperately to out-wacky one another in the same general space is something close to comedy torture.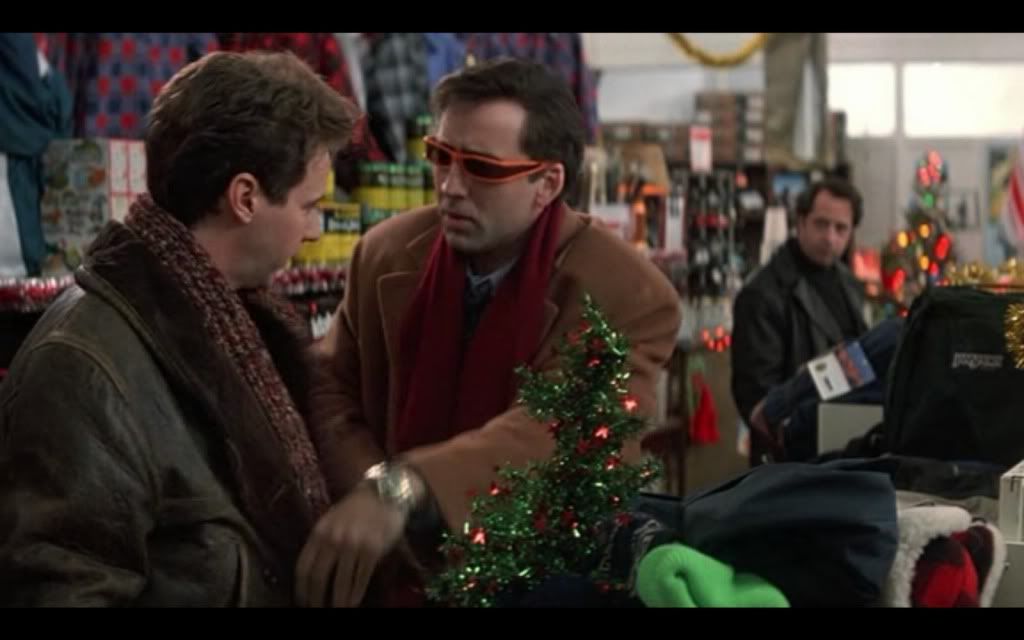 Lovitz essentially plays a spin on Jon Lovitz, as he often tends to do. He's cocky, dumb, and generally in over his head at all times. Carvey has decided to affect a mumbly, high-pitched affect to his voice that makes him sound like a cross between Marlon Brando in On the Waterfront and Butters from South Park. It is an exceedingly annoying voice from the second Carvey first opens his mouth during a parole hearing, and things do not improve from there.
Lovitz and Carvey are in prison because they're crooks, and they aren't particularly good at it. Lovitz is the idea man, while Carvey is a kleptomaniac. Cage's brother character has changed his ways, to the point where he has to go to confession at his local parish every time he even thinks about stealing. 
Through wacky antics and hilarious misunderstandings, Lovitz and Carvey immediately dupe Cage into doing another job with them. Lovitz has concocted a scheme to rob a poorly-guarded bank in the rural town of Paradise, Pennsylvania. Lovitz does this by convincing Cage that he has to go there to visit the daughter of a sick former cellmate. He obliges, and within ten minutes of arriving in the town, Cage is scoping the bank out and rearing to go.
In most movies, the writers try to at least make the sympathetic character struggle against his less admirable urges for some brief period of time. Trapped In Paradise does not bother with this step. He goes from reformed criminal to thievery junkie in a matter of seconds. 
That seems to happen a lot in this movie. Moments of supposed change in emotions, feelings, or attitudes come entirely at random. Cage's moods are particularly whimsical. There is, at the very least, a bit of volume and energy to Cage's performance, but it often feels like his moods changed depending on what day they were shooting. One second he's furious at his brothers, the next he's holding up a bank right alongside them. Then suddenly he's changing his ways again. Then he's angry. And so on and so forth.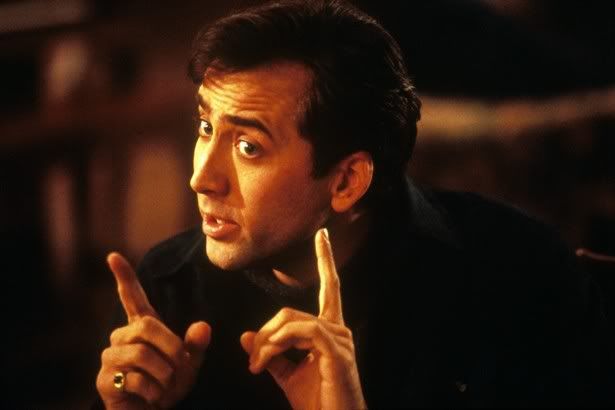 It's not just him. Everybody does it. Every big character turn in this movie is completely unearned. All the supposed moments of emotional growth just happen, with no build-up. This is all the more baffling when you consider that this movie is 110 minutes. Nearly two hours, and yet every potential character-building moment is rushed through in order to get to Dana Carvey's next hilarious stealing of random objects gag.
The basic arc of this thing is that these guys are supposed to be royal douche bags, realize they're royal douche bags, and then proceed to cease being royal douche bags in an unrealistically neat and tidy ending where nobody with billing on the poster has to suffer too much for their crimes. Yet it does this in the most herky jerky form imaginable, with fits and starts instead of a halfway natural progression.
So what goes on during those long stretches of movie in-between the random character personality shifts? Car chases, foot chases, car accidents, more car chases, and a horse-driven sled being chased by cars.
I don't know why chases are such a predominant element in Trapped In Paradise. It's not The Blues Brothers or anything, but there are at least three major scenes involving cars hilariously crashing into one another after a chase sequence. I can usually handle one of those per comedy, but Trapped In Paradise way overdoes it, while also being exceptionally mediocre at delivering on the promised chase-oriented thrills.
So yes, everything about Trapped In Paradise is pretty much awful. Apart from a few choice bouts of inappropriate shouting, Cage has nothing to do here. The rest of the cast, which also includes Donald Moffat and Twin Peaks regular Madchen Amick, aren't given much to do outside of act very sweet or very surprised at any given moment. And Lovitz and Carvey? Let's just say this qualifies as a career low point for two careers with a lot of low points.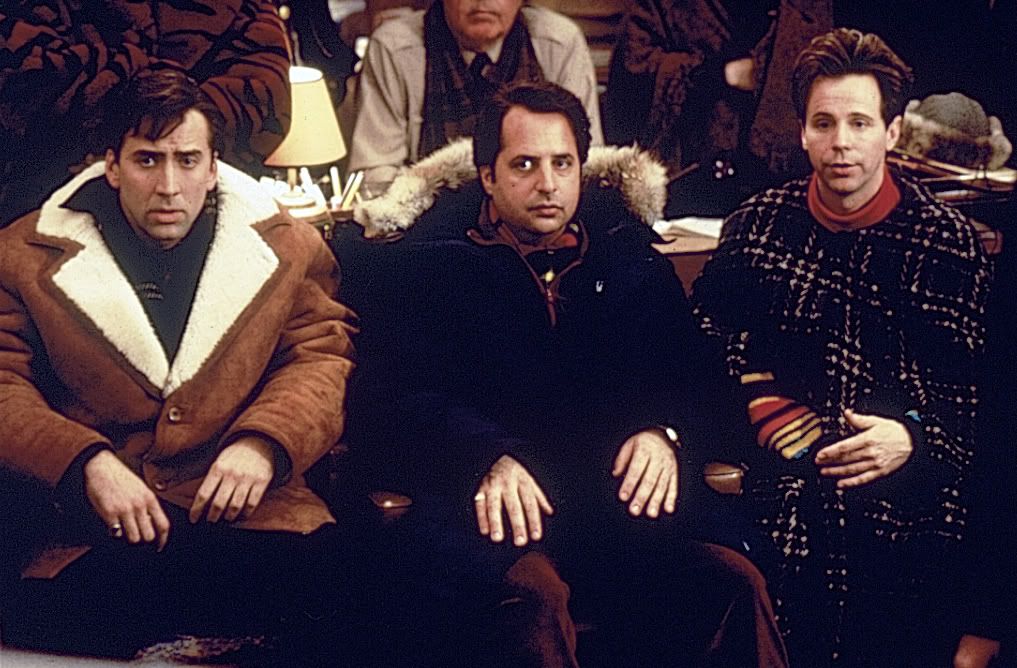 And yet, there is the x-factor that is Richard Jenkins. Jenkins plays an FBI agent sent to the town to track down the bank robbers, and he could not be more put upon by this task. It's Christmas Eve, and the last thing he wants to be doing is hanging out in this Podunk town tracking down miscreant thieves.
Most actors would just act kind of crusty and pissed off in this role. Jenkins adds a petulance and comical disinterest that I have to imagine wasn't originally in the script. Half of his stuff feels like ad-libbing, and it's great. It's total off-the-cuff randomness that is altogether absent from the rest of the movie. I don't know if he was just the only actor who realized how stupid this movie was and he made the conscious decision to just have some fun with the lousy material he'd been handed, but what he does in Trapped In Paradise made me laugh. That's more than I can say for the rest of the movie.
Random Thoughts:
Dana Carvey's horrible voice was apparently loosely based on young Mickey Rourke's method of speaking. I can sort of see what he was going for, but again, he sounds a lot more like Butters to me.
According to Jon Lovitz, the cast hated the process of making the movie so much that they took to referring to it as "Trapped In Bullshit." Jon Lovitz said this. That should give you an idea of how completely fucking horrid this movie is.
Trapped In Paradise writer/director George Gallo is the writer of Midnight Run, one of my favorite movies of all time. What the fuck happened, George?
Apologies for the lateness of this entry. Work stuff and travel has conspired to keep me very busy of late, and that will continue for the next couple of weeks. Rest assured, new entries will continue to be posted every week. They just might not get up on Mondays, as per usual. This humble Cage fan thanks you for your patience.
Next Week: Kiss of Death